Shannons Wheels 2022
The 40th Anniversary of 'Wheels'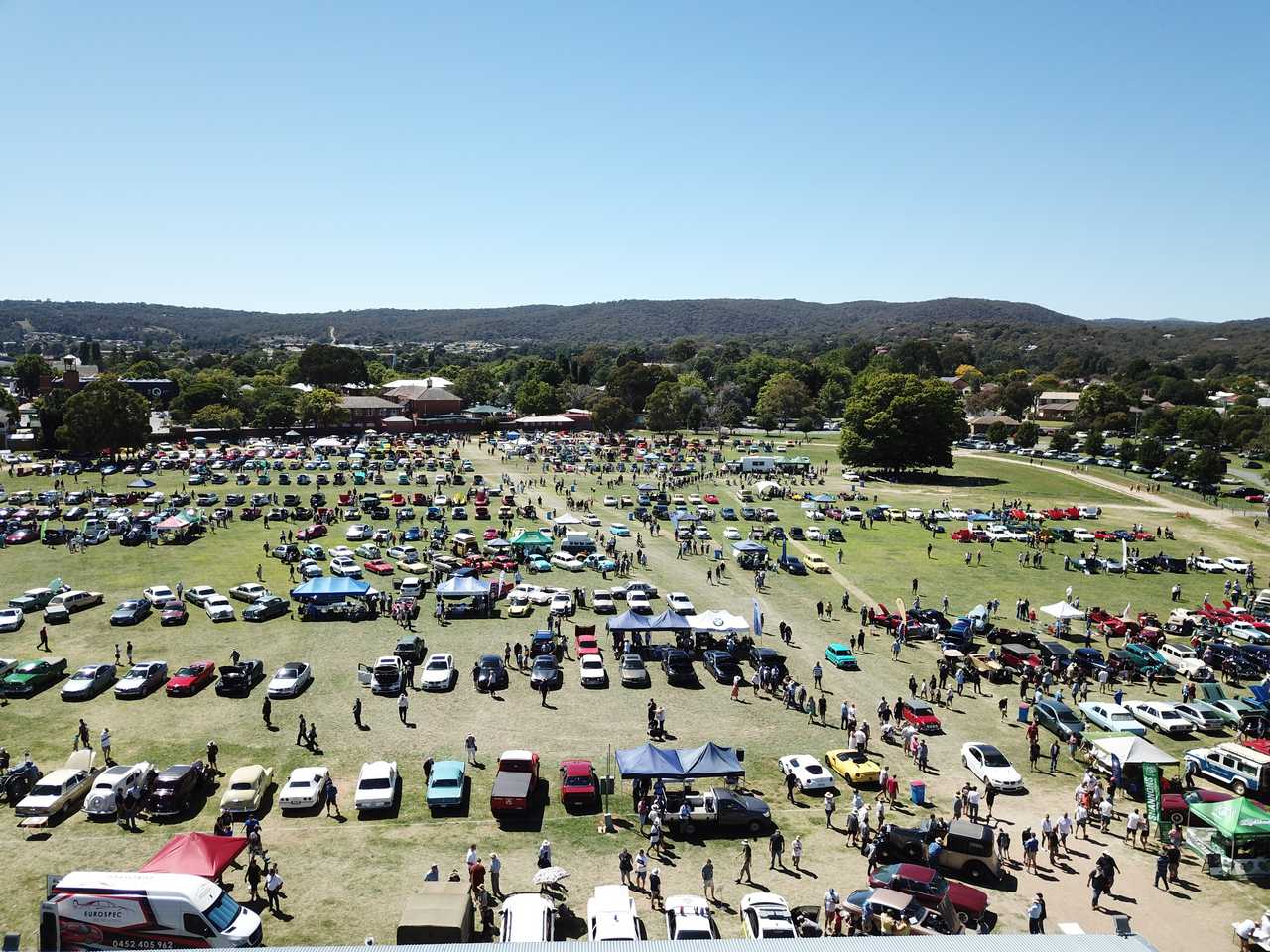 Aerial view of Shannons Wheels 2021 Photo by S Molloy
Council ACT Motor Clubs
in association with
Canberra Antique and Classic Motor Club
present the 40th anniversary of Council's annual vehicle display
Shannons Wheels 2022
The Council of ACT Motor Clubs annual charity vehicle display will be held on the Queanbeyan Showground on Sunday 6 March 2022 between 10am and 1.30pm.
Entry to the event is by gold coin donation to Technology for Ageing and Disability (TADACT).
Download the Shannons Wheels poster [here] &nbsp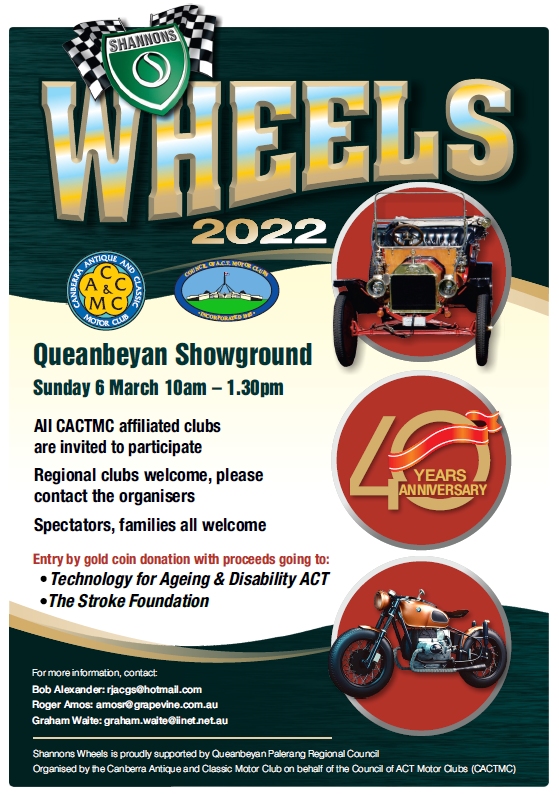 Breaking News!
Club Layout Map
Download the Club Layout Map [here]
Note: ALL vehicles are to enter the Show Grounds from the single main gate on Glebe Avenue. Once inside the showgrounds, marshalls will direct vehicles to internal gates 1, 2 or 3, as appropriate.

Gates will be open from 6am;
Vendors to be in position by 8am;
Exhibitors to assemble between 8:30am & 9:30am
General Public will be admitted from 10am

Rain will NOT stop WHEELS!
The organisers have advised that Shannons Wheels will proceed on Sunday 6th March at Queanbeyan Showgrounds.


&nbsp
The Display
The display will mark the 40th anniversary of the event which was first held on the Phillip oval ACT, in 1982. Since then it has raised over $400,000 for local charities.
More than 70 vehicle clubs from Canberra and the region are expected to attend, with many making a concerted effort to arrange and decorate their display area to commemorate the special anniversary of the event.
Over 700 vehicles - bikes, cars and trucks - are expected to be on display. They will include veteran, vintage and historic vehicles, as well as modified, electric and many special interest vehicles, and possibly even a few classic pedal cars.
There will be spotlight displays to mark special anniversaries:
Austin 7, celebrating 100 years
Jeep, celebrating 80 years
As well as a number of feature exhibits including:
Bubble cars including Isetta and Messerschmitt
A German Amphicar
Australian Federal Police's Historic Vehicle Fleet
Heritage fire appliances form the Historic Fire Brigade
EVs from the Electric Vehicle Association.
Shannons Wheels 'Car of the Show'
Visitors and exhibitors at Shannons Wheels are asked to bring plenty of gold coins as the 'Car of the Show' trophy will be decided using a trial method based on the size of the donation an exhibit attracts.
Each participating exhibit will have a box located nearby in which to deposit coins or tokens.
The exhibit that accumulates the largest donation of coins and tokens will be awarded the 'Car of the Show' trophy.
All money raised this way will be donated to the Stroke Foundation.
Attendees are asked to purchase tokens from the Stroke Foundation tent.
The mission of The Stroke Foundation is to prevent, treat and beat stroke.
&nbsp
Shannons Wheels 2022
is organised by the Canberra Antique & Classic Motor Club
on behalf of the Council of ACT Motor Clubs
The event is sponsored by:
Shannons Insurance
and supported by:
Queanbeyan Palerang Regional Council
and many local and regional businesses.
For further information, contact:
Mr Bob Alexander by phone: 0417 880 064 or email: rjacgs@hotmail.com

&nbsp &nbsp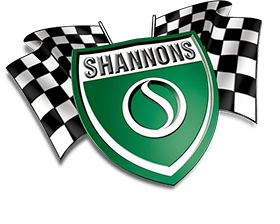 &nbsp &nbsp